MINISTRY TEAM
OUR PASTORS
Our pastoral team recognizes the authority of God, and realizes that we are shepherds who serve under the Chief Shepherd, Jesus Christ. We desire to devote ourselves to prayer and to the ministry of the Word. Our passion and goal is to equip the believers for the work of the ministry until we all attain maturity in the fullness of Christ.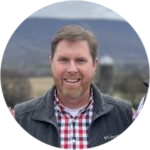 GREG STEELE, Senior Pastor
Greg is on his "second tour of duty" at JFBC. He was here back in the early 2000's as Student Pastor. He came in October 2013. He is married to Donna and they have two children Natalie and Cole. Greg is a graduate of Southwestern Theological Seminary and the University of Tennessee at Chattanooga. Greg enjoys working in the yard, coaching Cole in baseball, and traveling with the family. He can also been seen wearing Orange & White on Saturdays throughout the Fall, Go Big Orange!!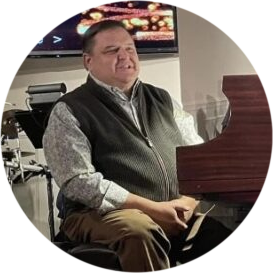 JOHN YOUNG, Worship Pastor
John came to JFBC in January 2012. He is married to Dana. They have 4 adult children (Aaron, Blake, Chris & Hannah) and twin grandchildren. John attended Middle Tennessee State University, Western Governors University and has a Master's of Worship Studies from The Robert E Webber Institute. He came to JFBC following stints at First Baptist Church, Bridgeport, AL and Christ Church Nashville. In his spare time John enjoys spending time with his family, cooking, fishing, vacationing in the mountains or at the beach and is an avid Tennessee Football and Lady Vol Basketball fan.
DUSTY TUDERS, Pastor of Students and Families
Pastor Dusty, a native of Jasper, has served as the Pastor of Students and Families at Jasper First since December of 2021. He and his wife Ginger have three girls, Emerie, Elliana (Elli), and Olivia. Dusty graduated from Union University in 2010 and has served in student ministry since that time. At Jasper First, Dusty serves kindergarteners to graduating seniors. His heart is to help students, young and old, take their next step in their relationship with Jesus Christ.
He has a vision for connecting students with their parents and other godly adults who can disciple them into mature followers of Christ. His goal for student ministry is to train students to go out into the world to
reach others for Christ, and to fall in love with serving God and the local church.
OUR STAFF
PEGGY PARKER, Church Secretary
Peggy started working for the church in 2004 and has been faithfully serving our church pastors and congregation for 19 years.

She has grown up in Jasper, Tennessee and has been blessed with three children, four grandchildren, and five great-grandchildren. In her free time, she enjoys making cards, reading, and spending time with all her children and grandchildren.

MOLLY SISK, Director of Wee Warriors Learning Center
Molly Sisk is the Director of Wee Warriors Learning Center. She is married to her high school sweetheart, Derek, and has three girls: Harper, Hadley, and Hallie. This summer the Sisks are excited to welcome the newest addition to their family. Molly graduated from Tennessee Tech in 2010 with a bachelor's degree in Elementary Education. Opening her own daycare/preschool has always been a dream for her. She is thrilled to see that dream become a reality with Wee Warriors.
GINGER TUDERS,
Media Director &
Wee Warriors Learning Center Assistant Director
Ginger came to Jasper First in December 2021 when her husband, Dusty, was called to serve as the Pastor of Students and Families. They have 3 children Elliana, Emerie, and Olivia. Ginger is a graduate of Union University with a degree in Business Marketing and a minor in Christian Studies. Ginger wants to make God known in the lives of children, students, and adults through her various work in church ministry. She is the administrator of our social media, church graphic designer, and assistant director for our new Wee Warriors Learning Center.